Timor Leste: it's likely that you've never heard of this country before. It's a very small island with a population of just over 1 million (a little less than Dallas, Texas), settled below Indonesia and only an hour's flight to Darwin, Australia. Remaining largely untouched by tourism, Timor Leste is home to  thriving, diverse coral reefs and has a refreshing, laid-back lifestyle. Their history hasn't always been so beautiful and peaceful.
Timor Leste has unwillingly been caught between Portuguese colonization and violent Japanese and Indonesian occupation. It was just in 2002 that Timor Leste regained its independence as a sovereign country. 
One result of the Indonesian occupation of Timor Leste was a large majority of the population converting to catholicism (Timor Leste is 97% catholic, one of the most densely catholic countries in the world). However, most rural people syncretize catholicism with local animistic beliefs. Despite this large catholic majority in Timor Leste, the entire island remains without a full Bible translation that the Timorese can easily understand.  
There are two official languages in Timor Leste, Tetum and Portuguese, but the most widely spoken language is Tetum Prasa, an Austronesian language with a heavy Portuguese influence. In addition to these three languages, there are over 20 other languages spoken on this small island, none of which have a full Bible translation! See the language map below.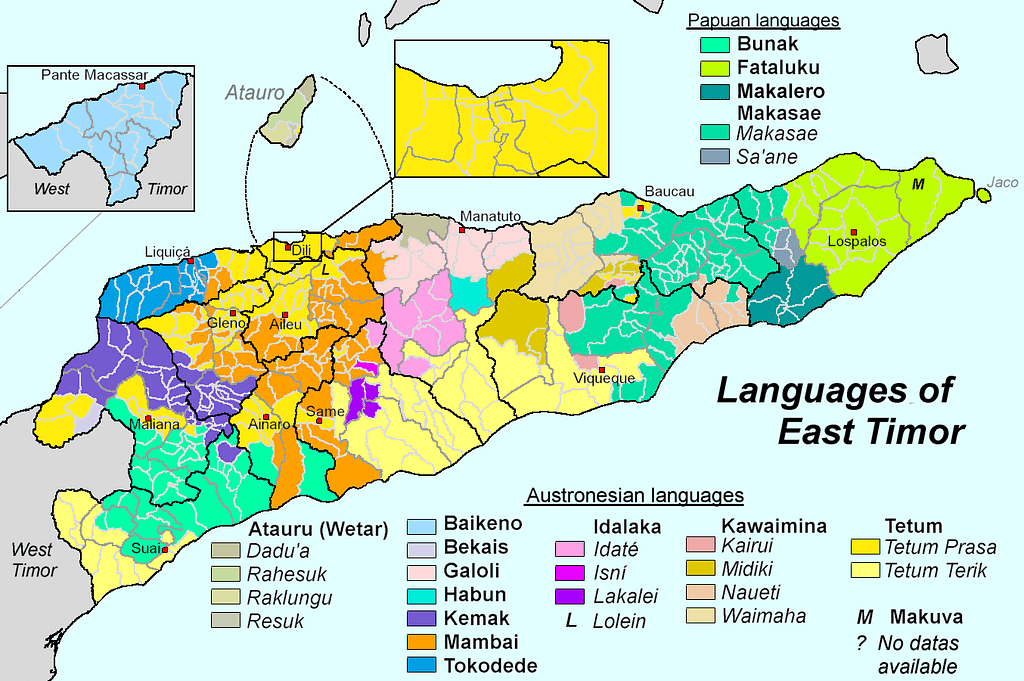 To know that an entire island is going through life without the light of God's Word is a burden on our hearts. For this reason, we are beginning a new Bible translation project in Timor Leste. We have established a small team in Timor Leste and have begun connecting with local churches, ministries, and missionaries to be involved with us in the translation project. We have also connected with several local Christians who want to be a part of this translation project!
Currently, we are still waiting for the funds we will need to set up a full translation team in Timor Leste, and are storying with local villagers in the meantime. Storying is one of our methods of Scripture engagement in which we translate Bible stories into a people group's language and teach them using drama, skits, poetry, and other artistic forms. This form of scripture engagement is especially effective in oral communities (communities that communicate primarily through speech and hearing more than print and reading) because they love to hear stories, memorize them, and share them with others!
Here are ways that you can be praying for the Timor Leste Bible Translation Project:
For our teams in Timor Leste to continue making valuable connections with local churches and ministries

For God to begin preparing the local people's hearts to hear His Word in their own language

For funding to become available for the full Bible translation to begin

For our missionaries as they travel and make connections for this project

That Christian politics would not hinder local support for this Bible translation project
If you have any questions about this project or if you feel led to help in any way, please contact us at
[email protected]
and we would be happy to speak and pray with you!